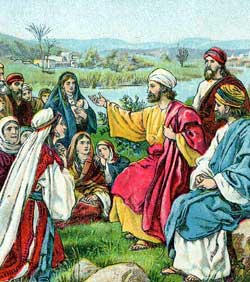 I enjoy preaching (and being a pastor, that's probably a good thing), but I also enjoy a Sunday off. On those days when I'm not in the pulpit, I like sitting under someone else.
On my
road trip adventure
to Indiana, I had the privilege of listening to a master teacher--
Rev. Dennis R. Miller
, pastor of
Emmanuel Community Church
in Fort Wayne.
Pastor Miller is working his way through Acts 12-28 and last Sunday the text was
Acts 16:11-18
--the story of Lydia and a slave girl.
At first, I thought his division of the text was strange--telling the whole story of Lydia and only part of the slave girl's. (
See here
how most study Bibles use paragraph divisions to split the two stories). Miller though united the two women's story as a
teaching unit
and saves for next time Acts 16:19-40 and the ruckus of Paul's imprisonment.
It was quick to see why. Miller made some excellent observations about the two women (if you're a pastor, that means, "He said stuff I never would have thought of!"):
Both women are unnamed. "Lydia" isn't a personal name, but the name of the region she came from (To illustrate: I once knew a guy name Doug, but when he went to Chiefs football games, everybody around his seat called him, "The Undertaker." His job as a funeral director ended up becoming his name; likewise Lydia. Her place of origin ended up becoming her name).
Lydia was wealthy and self-employed. The slave girl was poor and employed by others.
Lydia was influential. The slave girl was influenced.
Lydia was a "God worshipper"--a good person who didn't know Jesus. The slave girl worshipped the devil.
These two women couldn't have been more different, yet they both equally needed the salvation that can be found only in Jesus Christ.
The first converts in Europe are women. Contrary to popular scholastic opinion, Paul isn't against women. Women play an important role in the Book of Acts and the story of Christianity.
Miller closed with this observation and challenge: "Paul and Silas took a risk in leaving east Asia for Europe in order to preach the Gospel. What risks are you willing to take for the sake of Christ and His kingdom?"
A master Bible teacher brings to light what already exists in the text. Pastor Miller did that in a way that was engaging and compelling.
And I'm left with a challenge: What risks will I take for the cause of Christ?